Informazioni sul Coronavirus: In conformità con le disposizioni governative, le informazioni turistiche, tutti i musei, le istituzioni culturali, le sale da concerto, i teatri, i cinema, le attrazioni, lo zoo, i club, i bar, le piscine, le istituzioni pubbliche e le scuole di Magdeburgo sono chiusi fino a nuovo avviso. Sono vietati tutti gli eventi, sia pubblici che privati, con più di 50 partecipanti.
Guided Public Walking Tour in English - 1,5 Hours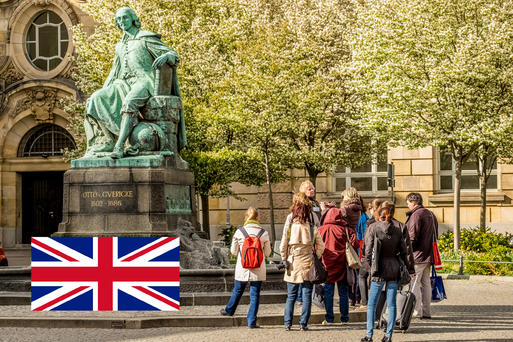 From April 2018 on we offer a guided tour in English. Following the route of our classic tour the English version is specially designed to be accessible for people with disabilities and visual impairments.
Walk through Magdeburg's history, get to know the Old Market with the famous Magdeburg Horseman and follow the steps of Martin Luther at the St. John's Church. Marvel at the Romanesque Monastery of Our Lady and acquaint yourself with Friedensreich Hundertwasser's philosophy of an architecture in harmony with nature, that is best shown in his final work, THE GREEN CITADEL OF MAGDEBURG. The tour ends at the cathedral place next to Magdeburg's most imposing landmark, the 800-year-old Magdeburg Cathedral
Day
every first and third saturday of each month
Reduction
6,00 € for children (6 to 14 years), people with disability (from 50 % degree of disability) and a registered accompanying person,
1,00 € discount with Magdeburg Tourist Card and other discount cards
Meeting point
Tourist Information Magdeburg
Breiter Weg 22
Please note
It is possible to rent a mobility scooter for the tour.
Next Dates: 21 April, 5 May, 19 May, 2 June, 16 June, 7 July
Additional Information