Due to policy relating to the coronavirus (covid-19) the tourist information, all museums, cultural institutions, concert halls, theatres, cinemas, attractions, the zoo, clubs, bars, swimming pools, public institutions and schools in Magdeburg are closed until further notice. All events both public and private with more than 50 participants are prohibited.
Portrait of Magdeburg
With 1200 years of rich and colourful history, Magdeburg is one of the oldest cities in the new Laender of the former East Germany. There are only few cities in Central Europe which compare to Magdeburg in terms of its eventful historical past.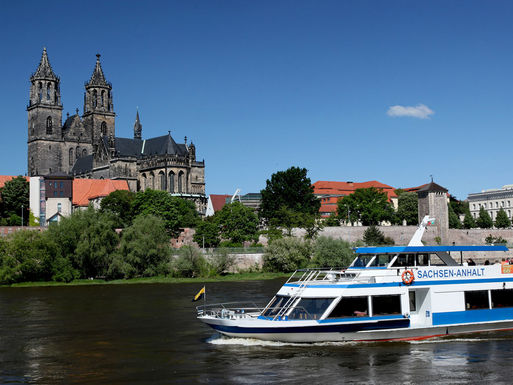 Magdeburg was once an imperial palatinate, a member of the Hanseatic League and a Prussian Fortress which has been marked by unfathomable war and destruction. However, Magdeburg allowed the currents of time to take it into a new future full of possibilities; the city was reconstructed and a particular importance was attached to the maintenance, care and preservation of cultural goods.
On the following pages you will find information, details and facts on the city as well as on its most famous sights and attractions and personalities.
TOP-Sights of Magdeburg