Diese Webseite verwendet Cookies für persönliche Einstellungen und spezielle Funktionen.
Zudem möchten wir Cookies auch verwenden, um statistische Daten zur Nutzung unseres Angebots zu sammeln (Tracking). Dafür bitten wir um Ihre Zustimmung.
The era of industrial revolution (Years 1818 to 1855)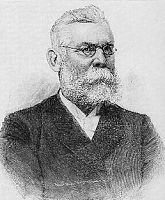 1818
Magdeburg has 35,824 inhabitants where every seventh is a soldier. After a journey of 74 hours the first steam vessel from Hamburg arrives in Magdeburg.
1821
Hermann Gruson, engineer and entrepreneur, is born in Magdeburg.
1823
The merchant and land owner August Leberecht Bodenstein sets up a brewery in the Neustadt district.
A municipal savings bank is established and starts up business.
Samuel Aston settles in Magdeburg and builds a factory (from 1840 it is named Gräfliche Stolbergsche Maschinenfabrik).
1824
The famous royal-Prussian garden architect Peter Joseph Lenné designs the Klosterbergegarten. This beautiful park is one of the oldest public gardens in Germany.
In the Neustadt district the new St. Nicolai church is inaugurated which was built according to plans by Karl Friedrich Schinkel. It is one of the most important buildings of Classicism in Magdeburg.
1834 - 36
Richard Wagner is appointed music director in Magdeburg where he meets his first wife, the actress Minna Planer.
1846
The "Berlin-Potsdam-Magdeburg Railway Society" completes the rail connection between Berlin and Magdeburg.
1855
Hermann Gruson establishes a factory and iron foundry in the Buckau district.