Double Ship lift in Hohenwarte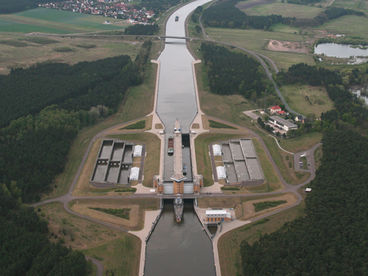 The double ship lift, designed as a water saving lock, provides access from the Mittelland Canal to the Elbe-Havel-Canal for ships and vessels. The overall difference of upper and lower water levels is 18.5m.
The use of water saving basins clearly shows the sustainable and ecologically responsive design of the lock where, in comparison to typical lock facilities, up to 60% of the water can be "saved" by remaining in the lock.
The lock was primarily built to provide access to the canal for vessels and ships heading for Berlin.

Technical details:
Usable length: 190m
Usable width: 2 x 12.5m
Operation of the upper gate: flap gate
Operation of the lower gate: lift gate
Lifting height: 18.55 – 19.05m
Pump system: 5 pumps with a performance of 3.5 m³/s each
Opening hours:
| | |
| --- | --- |
| Mon-Sat | 6am – 10pm |
| Sun | 7am -7pm |
Quelle: 05