Diese Webseite verwendet Cookies für persönliche Einstellungen und spezielle Funktionen.
Zudem möchten wir Cookies auch verwenden, um statistische Daten zur Nutzung unseres Angebots zu sammeln (Tracking). Dafür bitten wir um Ihre Zustimmung.
Rent a bike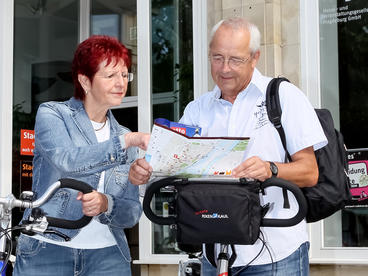 If you do not have a bicycle of your own, take advantage of bike rentals from our partners to tour the Elberadweg.






Elbe Rad Touristik
Gerhart - Hauptmann - Str. 2
39108 Magdeburg
Telephone: +49391 / 7 330 334
www.elbe-rad-weg.de

Tourist-Information (Ernst-Reuter-Allee 12)
Am Hundertwasserhaus (Breiter Weg)
Jugendherberge (Leiterstraße)
Am Hasselbachplatz (Liebigstraße 6)
InterCity Hotel (direkt am Hauptbahnhof)
Am Hauptbahnhof (Vorplatz am City Carre)

Tel. for renting: +49 30/ 69 20 50 46

Deutsche Bahn
Konrad-Adenauer-Platz
Call a bike
for more information: "Service Point" DB
Elberadverleih - Nextbike
Service "POINT" - Verleihstation
Am Ulrichplatz 4, 39104 Magdeburg
+49 391/ 59 74 98 25
www.elberadverleih.de

Little John Bikes
Lübeckerstraße 92
39124 Magdeburg
Tel.: +49 3 91 / 7 33 03 34
Zweirad-Schulz
Breiter Weg 38
39104 Magdeburg
Tel.: +49 3 91 / 5 31 45 45

Brückstraße 11-12
39114 Magdeburg
Tel.: +49 3 91 / 5 31 45 45
Rad Mitte Magdeburg
Goldschmiedebrücke 11
39104 Magdeburg
Tel.: +49 391 / 55 721 721
Herrenkrug Parkhotel
Herrenkrug 3
39114 Magdeburg
Tel.: +49 3 91 / 8 50 80


Hotel "Alt Prester"
Verleih nach Vereinbarung
Alt Prester 102
39114 Magdeburg
Tel.: +49 3 91 / 8 19 30
SCM
Seilerweg 17
39114 Magdeburg
Tel.: +49 3 91 / 5 44 87 01
Gasthaus Kelly
Breite Straße 11
39221 Pechau
Tel.: +49 3 91 / 8 11 11 85
SWM E-Bike
renting by prior arrangement 0 800 4244 554
SWM Kundencenter, Am Alten Theater 1
(Monday - Friday: 8am - 6pm)