Inhalt
Puppetry
Puppentheater
Magdeburg Puppet Theatre puts on 500 performances every season and attracts over 50,000 visitors and is therefore one of the most successful theatres of its kind in Germany. The venue also has an excellent international reputation thanks to its huge repertoire for both children and adults and the fact that it performs 6 to 8 new productions every year alongside a multitude of guest performances both in Germany and further afield.
Other successful highlights of the Puppet Theatre include the largest public collection of puppets and puppetry accessories in central Germany in the "villa p.", the International Puppetry Festival – "CHANGE OF VIEW", the "KinderKulturTage" children's culture days, educational activities in the fields of theatre and puppetry and its very own "Jugendkunstschule", a school of arts for children and young people.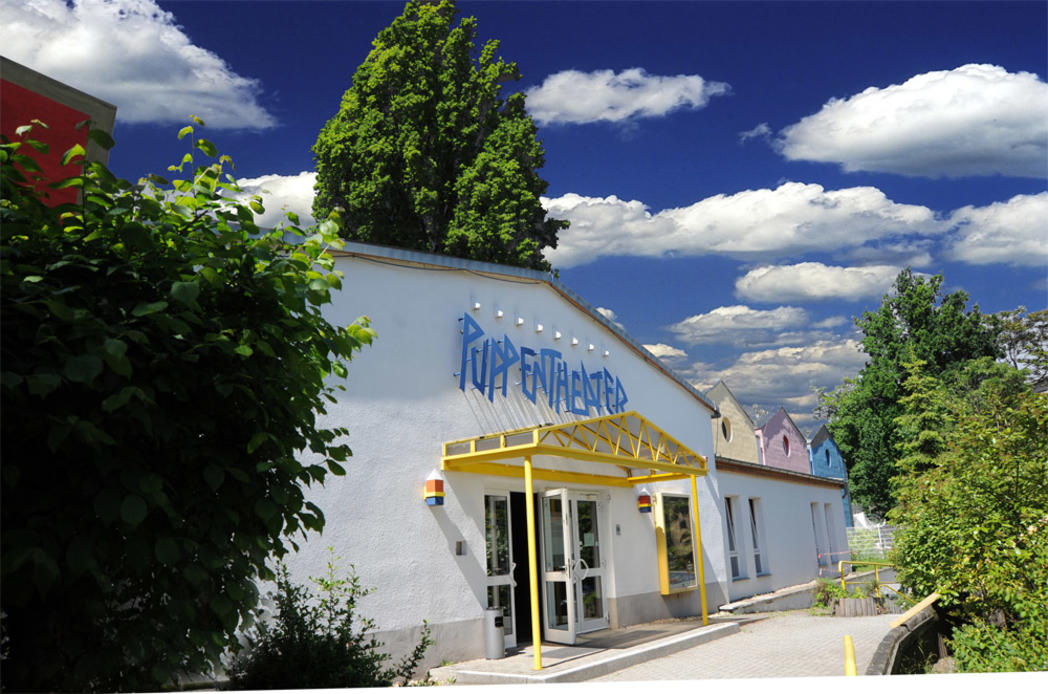 © Jesko Döring
The Puppet Theatre boasts a repertoire ranging from stories for the youngest theatregoers (aged 3 and up) through to classic fairy tales, fantasy stories and adventure stories for older children and right through to modern drama and classic examples of world literature. Regular evening performances for adults also form an essential part of the venue's programme of events.
Internationally known directors and stage designers are regular guests at the Puppet Theatre, which expands its artistic range by regularly performing co-productions with other theatres and independent artists. Its programme is rounded off by a number of guest performances both in Germany and abroad.
Puppentheater Magdeburg
Warschauer Straße 25
39104 Magdeburg
Telephone: +49 391 5403310 / 20
villa p.
In 2012, Magdeburg Puppet Theatre opened the largest public collection of puppets and puppetry accessories in central Germany in its neighbouring renovated listed District House dating back to the year 1884: the "villa p.®".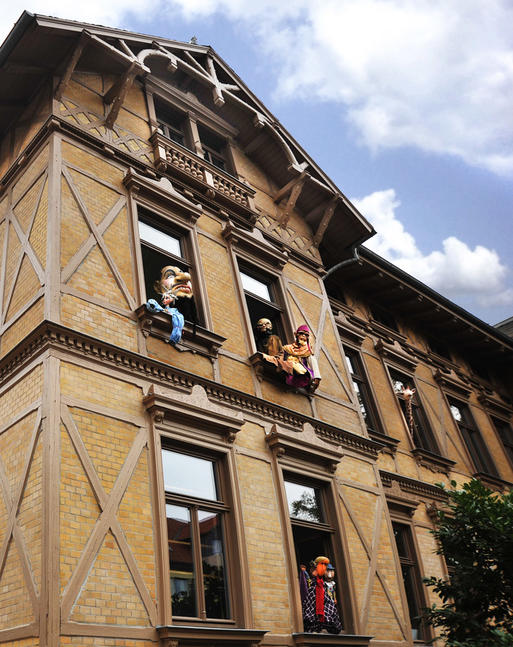 © Jesko Döring
The collection covers a total area of over 600m2 spread out over three floors and showcases the history and development of the world of puppetry from its beginnings in the year 1500 BC right through to the present day.
The exhibits not only clearly show how world history, religion, politics and science have all influenced this people-oriented art form, but also demonstrate the development of the techniques, materials and, in some cases, truly astonishing functions of the puppets on display in the collection.
The collection contains well over 1500 puppets, marionettes, figures and stories that visitors of all ages can admire, examine up close and, in the case of some of the pieces on display, even try out for themselves. It also offers guided tours that enable visitors to explore and get to know the diverse forms of the art of puppetry and make the most of an unforgettable experience.

We particularly recommend that guests round off their perfect day by combining their visit to the villa p. with a performance for children, young people or adults in the Puppet Theatre itself and taking the time to enjoy coffee, cocoa, chocolate and cake in the friendly and welcoming atmosphere of the café p.
© Jesko Döring
Opening Hours
villa p.: daily from 11:00am - 5:00pm, except Mondays
café p. : daily from 12:00pm, except Mondays
Guided tours:
Wednesday | Saturday | Sunday at 3:00pm
Puppen im Film
Puppets on Film
The special exhibition "PUPPETS ON FILM" was opened in the Central German Puppetry Collection in the villa p. on 16th November 2013.
One of the core areas of the former DEFA film studio in the German Democratic Republic was the Cartoon Department in the German city of Dresden, which was extremely successful in producing over 1500 animated films for cinema and television. These productions not only received an excellent response from East German viewers, but were also exported into over one hundred different countries, where they regularly attracted positive attention at international film festivals and confirmed their success by winning a multitude of awards.

Alongside their animations for children such as "Pittiplatsch" "Geschichten aus dem Märchenwald" (Stories from the Fairytale Forest) and children's adventure stories, the DEFA productions also included films for adults, which played an increasingly popular role on both cinema and television screens. Stories such as "Der Wunderdoktor" (The Miracle Doctor), "Heinrich der Verhinderte" (Hampered Heinrich) or "Der fallende Schatten" (The Falling Shadow) all boasted unparalleled aesthetics and became unforgettable milestones in film history.

DEFA was shut down 1992 and virtually all of its films threatened to fall into oblivion. One year later, however, a group of film enthusiasts founded the German Institute for Animated Film (DIAF) and have been working hard to save, reclaim and breathe life into the unique achievements of this successful piece of German film history ever since.
The Collection Comes to Magdeburg
The archive in Dresden contains over 2000 film copies and a comprehensive collection of written work, photos, graphics, drafts, designs and, of course, puppets and puppetry items. A selection of the archive's particularly outstanding exhibits has now been touring the countries in which the films achieved such huge popularity in the past for several years.

After stops in Estonia, Poland and France, the collection has now finally arrived in Magdeburg: in the Central German Puppetry Collection. Three rooms in the villa p. are currently housing the special exhibition's selection of films, puppets and background information from a significant era of film history and while children listen to stories and discover the secrets of the world of film, the exhibits are sure to bring back pleasant memories for many of their parents.
Collection Opening Hours
16th November 2013 to March 2014

Daily from 11:00am - 5:00pm, expect Mondays
Veranstaltungen Puppentheater
Es wurden keine Einträge gefunden!
Öffnungszeiten
Erreichbarkeit
station
Warschauer Straße
tram
line: 2 and 8
station
Porsestraße
bus
line: 52 and 54