The «Magdeburger Zwickmühle»
The "Magdeburger Zwickmühle" comedy venue is famous throughout the German-speaking world and has won a multitude of political satire and comedy awards such as the "Leipziger Löwenzahn", the "Reinheimer Satirelöwe" and the Swiss "Cornichon".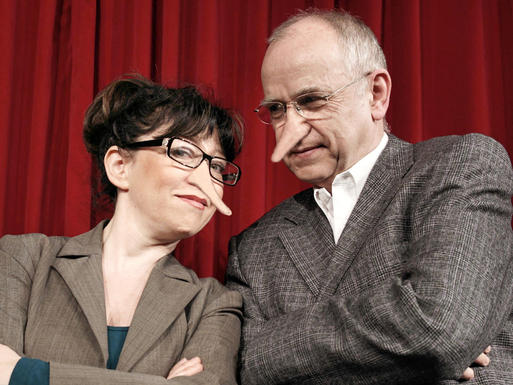 "Political satire comedy really does still exist: without any nonsense whatsoever and far away from the embarrassment of your standard comedy Punch and Judy show." (from the "Süddeutsche Zeitung" newspaper)
"The art of political satire comedy is to pick out the most important topics from the multitude of issues and current affairs on offer and to hone these topics so that their absurdity not only makes people laugh, but also makes them think. The Zwickmühle comedians have mastered this art." (from the "Magdeburger Volksstimme" newspaper)
"This comedy group stands out from the plain old mainstream of entertainment like a satirical lighthouse ... instead of mourning the loss of political figures, this venue mercilessly tears them apart." (from the "Allgemeine Zeitung Mainz" newspaper)
"Political élan, linguistic excellence and intellectual brain-teasers have been the trademarks of the Zwickmühle since day one … a fizzy cocktail of highbrow comedy and super entertainment …" (from the Swiss "Oltner Tagblatt" newspaper)
The "Zwickmühle" comedy venue in the Leiterstrasse in Magdeburg gives you the chance to experience traditional political satire at its very best, for example in its current production "Lügen schaffts Amt" ("An Office of Lies") with the stand-up comedians Marion Bach and Hans-Günther Pölitz.
"Whatever topics this wonderfully enthusiastic comedy pair discusses, everything is linked to the main focus of 'political satire', providing the top-quality entertainment typical of the venue."
The "Zwickmühle" was also able to make a name for itself both in Magdeburg and further afield in the ten years between 1999 and 2009, when it appeared on "Die 3 von der Zankstelle", a show on the German television channel MDR. The comedy group has additionally performed as a guest on stages all over Germany, as well as in Switzerland and the Swedish capital of Stockholm.
On top of all this, the founder of the "Zwickmühle", Hans-Günther Pölitz, has also been exploring the world of current affairs in his iconic breakfast show slot "Das Pölitz-Frühstück" on the radio station mdr1-Radio-Sachsen-Anhalt since 1997. Every Saturday, he takes to airwaves to explain the latest happenings in German politics to his "Mummy". Be it the banking crisis or the German armed forces, Magdeburg, the City of Emperor Otto, or coming to terms with the German past, Pölitz explores both major and minor topics with disarming naivety and uses his political satire to expose the real truths, providing both enlightening und hilarious entertainment!
more information
x