Accessible tourism in City of Otto
Magdeburg is working to get ever more accessiblean promotes its' proud to call itself Ottostadt. Magdeburg is 1,200 years old, making it one of the oldest cities in Germany's eastern federal states.

Lead by the motto "otto for everyone" Magdeburg aims to lift as many existing barriers as possible. Thus, many sights are now easily accessible by people with mobility impairments.
Magdeburg is a city of the short distances: Market, Elbe, Cathedral and Gründerzeit Quarter are within a few minutes walking distance. Magdeburg's public transportation (Magdeburger Verkehrsbetriebe, MVB) is adjusted to people with reduced mobility. Many stops are at ground level, the MVB's personnel is trained to help you with your needs.
Pay attention to the adjacent pictograms on our website, they provide information on accessibility.



Magdeburg is part of the network "Barrier-free travel destinations in Germany" since 2011. The lively exchange with other cities and experts contributes to the continuous improvement of the accessible offers and the service for persons with reduced mobility.
Our (German) brochure "otto für alle" bundles barrier-free tourism offers in the city of Magdeburg, from the city tour through suitable accommodation to cultural and leisure activities.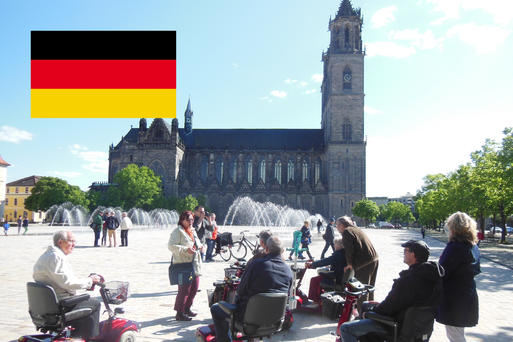 You want to join the Public Walking Tour but you're no that a good walker anymore? We offer a tour with rented mobilty scooters.
more »