A Guided Tour of the Mark Fortress – 1 Hour
Our interesting guided tours of the Mark Fortress by the Hohepfortewall rampart give you the opportunity to explore a former Prussian fortress that formed an important part of the northern section of Magdeburg's former defence installations.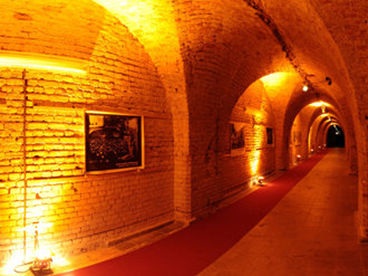 © © FestungMark
The tour enables participants to visit virtually all areas of the fortress, including those that are normally closed to the public, to take a peek behind the scenes of what is now a major venue for cultural events in Magdeburg and to gain an insight into the history of the building and the current plans to further develop the site, which was constructed in the 19th century.
Come and enjoy the view from the galleries in the Grand Hall and the mid-level Cannon Walk before discovering the mysterious alcoves in the Small Hall and visiting the Cultural Workshop in the east wing of the fortress. You can also experience the history of the building up close and in person and enjoy a walk around the historic city wall (which dates back to the 15th century) located directly by the large fortress courtyard.
Available:




January to December
On the last Sunday of the month
2:00 - 3:00pm

Price:

4 Euros per person
Recommended for children aged 12 and up

Starting point:


Kiosk in the park in front of the fortress

End point:

At the starting point

Please note:

Tours must be booked and paid for in advance at the Tourist-Information Magdeburg (telephone: +49 391 8380-403) at least two days before the tour.
More information: