Diese Webseite verwendet Cookies für persönliche Einstellungen und spezielle Funktionen.
Zudem möchten wir Cookies auch verwenden, um statistische Daten zur Nutzung unseres Angebots zu sammeln (Tracking). Dafür bitten wir um Ihre Zustimmung.
Wonderful Walking Tours through Magdeburg
Come and enjoy a guided walking tour through the city of Magdeburg and you won't believe your eyes. The former fortress and Hanseatic city is sure to surprise you with a multitude of interesting sights, attractions and historical insights that you simply have to experience up close and in person.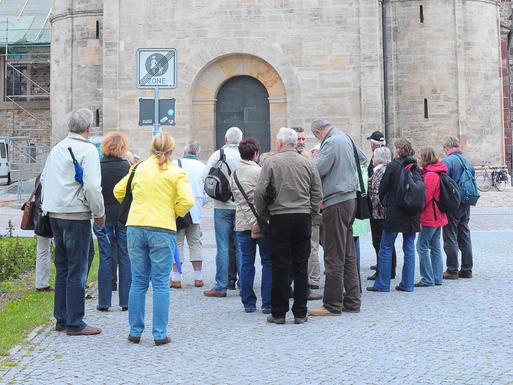 A guided city tour in Magdeburg is the best way to gain a comprehensive overview of the wide variety of stunning landmarks that can be found in the capital city of the German Land of Saxony-Anhalt. Your walking tour of the city can be tailored to suit your individual needs and desires. The city has so many sights and attractions to offer that it's easy to find the perfect tour focus for every taste.
To top it off, if your feet start to ache but you haven't yet seen all of the city's highlights, you can also choose to sit back and relax in a double-decker bus or go on a boat trip with the "Weiße Flotte" (White Fleet) to see even more. Our guided tours enable you to constantly re-discover the impressive city of Magdeburg from a number of different fascinating perspectives.