A Guided Bus Tour of Magdeburg
A guided bus tour through Magdeburg is the most convenient and relaxing way to get to know the City of Otto even better.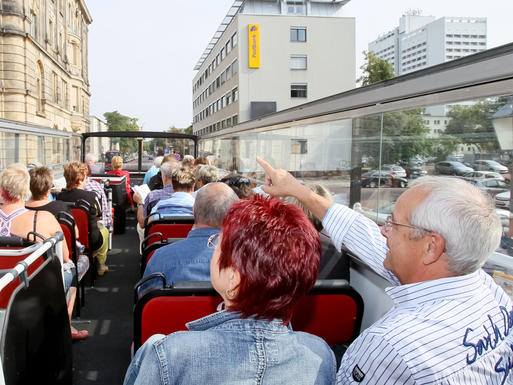 Between April and October, climb aboard our red double-decker bus and explore the most attractive areas and most popular sights and attractions of the capital city of the German Land of Saxony-Anhalt up close whilst also gaining a first-hand experience of the high quality of life that makes Magdeburg so special.
You can even book your guided bus tour of the cathedral city on the river Elbe online before you arrive or you can visit the Tourist-Information Magdeburg to sign up for the tour through the city once you're here.
Our guided bus tours of the city of Magdeburg last one to three hours and can be individually tailored to suit the needs of tourist groups. They give participants the opportunity to view the most attractive features of the City of Otto. You can even choose to go on a guided city tour of Magdeburg by both land and water by taking a ride through the streets of Magdeburg on our double-decker bus before cruising down the river Elbe on a boat trip with the Weiße Flotte ("White Fleet"). You can make the most of this opportunity every day between May and September.
A guided bus tour of Magdeburg is an absolute must for your stay in the City of Otto - make sure you don't miss out! Come and make the most of our guided tour motto: "Otto Shows You"!