Due to policy relating to the coronavirus (covid-19) the tourist information, all museums, cultural institutions, concert halls, theatres, cinemas, attractions, the zoo, clubs, bars, swimming pools, public institutions and schools in Magdeburg are closed until further notice. All events both public and private with more than 50 participants are prohibited.
Cruises offered by the Weiße Flotte
Cruises offered by the Weiße Flotte
The so-called Weiße Flotte or white fleet has made a name for itself on the river Elbe.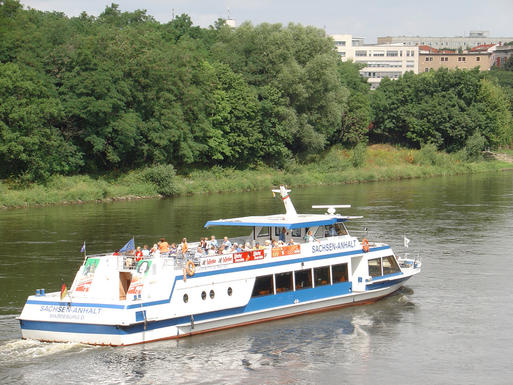 Why not treat yourself to a wonderful cruise on one of the passenger ferries which offers a high standard of travel comfort and convenience - and enjoy the river landscape of the old Cathedral City.
There is a wide variety of offers to choose from: upstream to Schönebeck where the cruise takes you past the Cathedral and the southern tip of the Rotehornpark or downstream to the impressive Waterway Junction with its new Magdeburg/Rothensee ship lift and gigantic canal bridge across the Elbe connecting the Mittelland Canal and the Elbe-Havel-Canal. Tea & coffee and delicious cakes & pastries are served while you sit and enjoy the scenic cruise – an unforgettable experience.
More information:
x