Conference City Magdeburg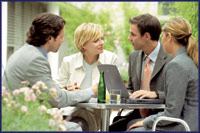 Under the slogan "Conference City Magdeburg", the Conference Office of the Magdeburg Marketing GmbH is dedicated to promoting the capital city of Saxony-Anhalt as a high quality meeting and conference venue.
Our complete and comprehensive service portfolio includes:
advice on the time schedule and selection of the venue as well as preparation of offers;

design, planning and co-ordination of every aspect of the event;

budget control in close co-operation with the event organiser;

Press and Public Relations;

organisation and on-site management of the event;

creative and reliable organisation of social programmes as well as pre & post-convention programmes;

additional services such as the provision of give-aways and souvenirs as well as concessionary tickets for public transport.
At the Conference Office we are more than happy to assist you in all aspects of conference management. Please contact us so we can help you make your event in Magdeburg a success.

Feel free to explore the Website of the Conference Office to find out more about possible venues for your conference or event. We will be delighted to assist you in every way.