Sports
German handball would not be the same without the SC Magdeburg.
The Magdeburg handball team is incredibly successful: ten national titles in the east of Germany, six national cup victories, winner of the German Championship in 2001, five European Cup victories including the only German success in the Champions League so far and three victories in the European Championship for Club Teams. The locals love their successful sports club - on the occasion of the handball World Championship in January 2007, 2500 ecstatic fans celebrated their eight participants among also two world handball champions on Alter Markt.
However, Magdeburg also impresses in other sporting disciplines. For decades, the city has enjoyed an excellent reputation as a federal training centre and Olympic base. Famous sports idols, such as the swimmer Antje Buschschulte and the canoeists Mark Zabel and Björn Bach, have been many time medal winners and thus belong to the elite of the SCM.
The world champion boxer Sven Ottke calls the Bördelandhalle "his living room" as it has hosted many of his best boxing matches and moments. "Sport Events Steinforth" is based in Magdeburg and ranks third among Germany's professional boxing pens after "Sauerland" and "Kohl". But also the football fans get their money's worth: with the new stadium, Magdeburg's football club, the 1st FC Magdeburg, is able to entertain thousands of enthusiastic spectators in an attractive complex.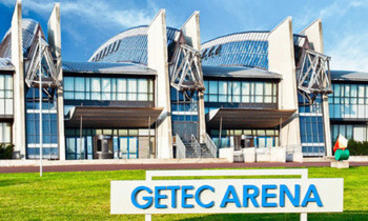 The GETEC-Arena is one of the most modern halls in Germany and serves as the largest multi-purpose hall in Saxony-Anhalt: with a seating capacity of 7000, enthusiastic spectators can enjoy a multitude of exciting sporting events and music performances.
weiterlesen »
In the east of Magdeburg visitors can discover one of Germany's most popular horse race courses on the grounds of the beautiful Herrenkrug Park.
It is the centrepiece of an exciting adventure world which offers first class horse races, a public 9-hole golf course, a riding school and the restaurant "Zum Kronprinzen".
In 2006, the Magdeburg Renn-Verein celebrates its 100th birthday and ...
weiterlesen »