"TIERISCH NAH"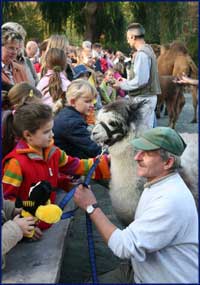 The visitors of the Magdeburg Zoo can get close to a fascinating variety of animals.
Here you not only marvel at elephants doing their "fitness training", you also have the opportunity to feed them. Our keepers would love to present the black Humboldt penguins to you and explain why these birds are unable to fly where instead they spend most of their time in water. Spacious areas for the Siberian tigers and snow leopards offer a special experience for both visitor and animal. Here, you can look the tigers in the eye. No other German zoo gives you the opportunity to observe so many species of endangered South American marmosets. The successful breed of black rhinoceroses is also an internationally respected highlight. Already four calves of this extremely endangered species have been born in the Magdeburg Zoo.
This is only one example of the zoo's gradual development to become a centre for the conservation and protection of endangered species. Currently the zoo is involved in 36 wildlife protection programmes. 650 animals of 160 species are waiting for your visit! Even your dog is welcome to join you at the zoo.
More events:
care and training of the elephants, feeding by our visitors

feeding of the Humboldt penguins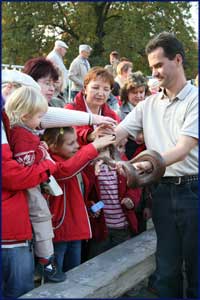 Quelle: 01