Admission Prices and Tickets for Magdeburg Zoo
Come and visit Magdeburg Zoo, which is open 365 days a year!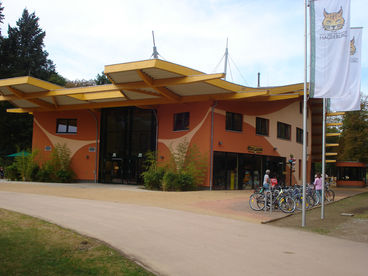 Children in particular are often pleased when they don't have to spend all day on their feet. Magdeburg Zoo therefore has a number of wooden carts that can be hired from the ticket desks for a small fee.

Dogs are welcome at the zoo but must be kept on a short lead at all times. They are not, however, permitted in the animal buildings, play area or animal enclosures that are accessible to visitors.
Day Ticket
Adults: 8 Euros
School pupils, students, severely disabled individuals and senior citizens: 6 Euros
Children (aged between 4 and 15): 4 Euros
Dogs: 2 Euros
Holders of a "Sozialpass" card (age 16 and up): 6 Euros
Children of holders of a "Sozialpass" card: 3 Euros
Children's groups (of 10 or more): 2.50 Euros per child
Small family ticket: 15 Euros
One adult and his/her own children
Large family ticket: 21 Euros
Two adults and their own children
Annual Ticket
Adults: 30 Euros
School pupils, students, severely disabled individuals and senior citizens: 23 Euros
Children (aged between 4 and 15): 15 Euros
Small family ticket: 50 Euros
One adult and his/her own children
Large family ticket: 78 Euros
Two adults and their own children
Special Arrangements
Free admission

for those accompanying blind visitors

Free admission

for an adult accompanying groups of 10 or more children

1 Euro discount

for customers of the Elbe-Saale-Bahn train line upon presentation of their train ticket
Admission Prices and Tickets for Magdeburg Zoo