THE GREEN CITADEL OF MAGDEBURG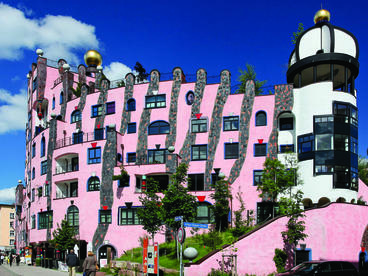 THE GREEN CITADEL OF MAGDEBURG is the name that Friedensreich Hundertwasser gave to one of his last architectural projects. With its ocean of colours and shapes, 900 different windows, gold globes and sweetly scented flower meadows on its rooftops and undulated floors that rise and fall in gentle waves creating "a melody for the feet", this building fascinates its visitors and is a paradise for all.
Dauer
2 days (1overnight stay including breakfast)
Leistungen
A glass of sparkling wine on arrival
A guided public tour of Magdeburg
A giuded public tour of THE GREEN CITADEL OF MAGDEBURG
1 ticket for an evening event (according to the calendar of events) or 1 meal
1 overnight stay including breakfast in a the ARTHOTEL IN THE GREEN CITADEL OG MAGDEBURG
A risk coverage certificate
Preis pro Person
single room: from 170,00 €
double room: from 123,00 €
Travel and transfer not included. Arrival at your own expense.

Do you have questions to the travel offer? Do not hesitate to contact us!
ines.minschke@magdeburg-tourist.de