"Exploring Unknown Corners" – A 2-Hour-Long Guided City Tour on a Double-Decker Bus
This season, our well-known routes are being joined by a brand-new tour in the form of a two-hour-long guided city tour on our double-decker bus under the motto of "Exploring Unknown Corners", which will take place every Tuesday at 2pm.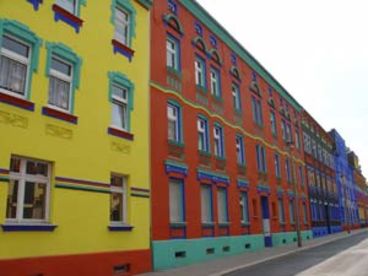 On this tour, our red double-decker bus will take you out of the city centre and into the Magdeburg districts of Buckau, Sudenburg and Stadtfeld.
After travelling through the Stadtpark Rotehorn city park, the bus will take you past the city's Puppet Theatre and its Central German Puppetry Collection before heading towards Sudenburg and Stadtfeld. On your journey into the city districts, you will be able to view a number of attractive buildings from the "Gründerzeit" period, St. Ambrose Church, the "Encke-Kaserne" barracks and several examples of architecture from the "Neues Bauen" modern architecture movement whilst finding out more about the history of the districts from your tour guide.
The second part of the tour will give you the opportunity to experience Magdeburg's most popular sights and attractions, for example Magdeburg Cathedral, the Art Museum in the Monastery of Our Lady and the architectural project by the artist Friedensreich Hundertwasser.
In addition to the following fixed tour dates, groups are more than welcome to contact us at the Tourist-Information Magdeburg to arrange bus tours of Magdeburg at other times that suit their individual needs and requirements.
Available:

April to October 2014
Tuesday
2:00-4:00pm

Duration:

2 hours

Price:

14 Euros for adults
7 Euros for children aged between 6 and 14
Free for children under the age of 6

Starting Point:


Otto von Guericke monument at the Alter Markt

End point:

At the starting point

Please note:

We recommend that you book tours in advance by calling us on:
+49 391 8380403.
Reserved tickets must be paid for at the Tourist-Information
Magdeburg 30 minutes prior to departure at the latest or directly
on the bus.
Group bookings for public bus tours can only be made for
up to a maximum of 15 people.
Tour participants are only permitted to bring dogs
by prior arrangement.