Georg Philipp Telemann Concert Hall
in the Art Museum hosted by the Monastery of Our Lady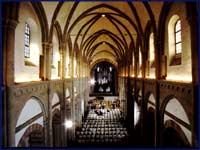 On 17th September 1977 and after extensive renovation work, the Georg Philipp Telemann concert hall was opened to the public giving new life to the former church of the Monastery of Our Lady.
It was named after the famous Baroque composer Georg Philipp Telemann who was born in Magdeburg in 1681 and whose life and work is still held in high esteem by the city. With seating facilities for 349, the Georg Philipp Telemann concert hall belongs one of the smaller concert venues in Magdeburg. Embedded in the historical monastery building, it is also linked to the Romanesque Road and ranked among the most scenic concert venues in the Land of Saxony-Anhalt due to its unique architectural elements.
The installation of a large concert organ - the 1000th piece of work by the renowned organ building company Jehmlich in Dresden – was a turning point for organ music which has ever since been an integral part of the music programme offered by the Monastery of Our Lady. The wide range of concerts mainly includes different types of chamber music, choir music and choir-symphony where the Culture Department of the Capital City Magdeburg is in charge of the concert programme.
More Information: