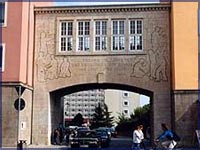 The Second World War brought death and destruction upon the city of Magdeburg. The first air raids on Magdeburg began in 1944. The most devastating air attack was launched on January 16, 1945. It took half an hour to destroy 60 percent of the doomed city. A deadly bomb rain fell on the old city centre and reduced 90 percent of the buildings to rubble. An area of more than 2.4 square kilometres was transformed into a monstrous hell of heat and flames and even 370 kilometres away the light of the raging fires could be seen in the city centre. It is still unknown how many citizens fell victim to this disastrous attack.
In 1951, extensive reconstruction work began. This was the second reconstruction after the nearly complete destruction of the city in 1631 and it began at the corner of Breiter Weg / Bärstrasse and the Bärstrasse Gate. In the course of the rebuilding process, the old city centre was completely changed. Many of the old streets in the centre were buried under new constructions. The buildings along Ernst-Reuter-Allee were erected in Zuckerbäcker style and the Breite Weg, formerly a magnificent Baroque boulevard, was rebuilt in a completely new style.
On the Bärstrasse Gate you can find an inscription commemorating the destruction of Magdeburg and the city's reconstruction after the war.