Parliament of Saxony-Anhalt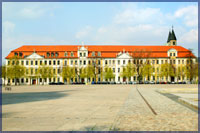 In many publications, the buildings at Cathedral Square Nos. 7-9, located in the northern front, are celebrated as the most important architectural achievements of Magdeburg in the 18th century. From an architectural point of view, they must be considered as one unit because they are connected by a common attic roof. The splendid ensemble of Baroque buildings shows the architecture of this popular style in all its magnificence.
The patrician building at Cathedral Square 7 was erected in 1724/25 by the wine merchant Johann Christian Winneberg. At about the same time, master builder Reinicke constructed the building at No. 8 with apartments which were let out for rent. The oldest building, Cathedral Square No. 9, was completed in 1725. It was considered a so-called "tax free house" based on the regal privilege to be exempt from ground taxes. The Prussian lieutenant Gerhard Cornelius von Walrave (1692-1773) is considered to have planned and erected not only this building but also the other two.
The baroque buildings were severely damaged during the Second World War and reconstructed in 1953. Today they host the Parliament of the Land of Saxony-Anhalt.