Art Museum in the Monastery Of Our Lady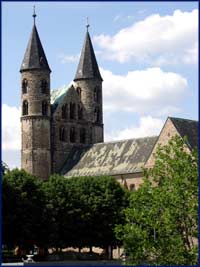 The monastery building erected in Romanesque style from 1064 to the mid-12th century is one of the best preserved witnesses of Romanesque architecture in Germany. Today it hosts the Magdeburg Art Museum. St. Mary's Church was transformed into the Georg Philipp Telemann concert hall and was opened to the public in 1977.
Today, the art museum features a fine collection of artworks and exhibits from all periods of European art history. The permanent exhibition is divided into four sections: Antique to Modern Times, 20th century German sculpture art, sculpture park and contemporary art. The impressive collection of medieval religious sculptures as well as space-oriented art after 1945 deserve a special mention. Among the many exhibits are works by Veit Stoß, Tilmann Riemenschneider and Peter Breuer as well as Wilhelm Lehmbruck, Will Lammert, Fritz Cremer, Theo Balden, Max Lachnit, Waldemar Grzimek, Gustav Seitz, Katharina Heise, Werner Stötzer, Hans Scheib, Sabina Grzimek and Wieland Förster.
From 1989 it was finally possible for the Museum to develop its own collection concept when the former GDR exhibition of national small sculptures had come to an end. Since then, important examples of European contemporary art have been added to the museum's collection such as works by Ruth Francken, Heinz Breloh, Leiko Ikemura, Thomas Virnich, Auke de Vries and Enrico Castellani.
Special exhibitions are organised on a regular basis as an important forum of reflexion on the trends in contemporary and young space-oriented art.
Tip of advice:
Public guided tours
History and architecture of St. Mary's Church
Saturdays 2.30pm
Library of the Monastery
Guided tour of the marvellous historical collection of books belonging to the Library of the Art Museum are offered on the last Wednesday of the month at 3pm.
The library is open to the public on Tuesdays and Thursdays.
Please phone for prior arrangement: Tel. +49(0) 391-56 50 216, Ms Olbrich
More Information:
Permanent Exhibition: