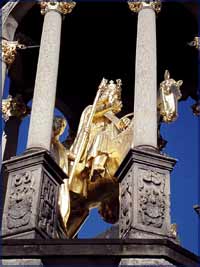 The first free-standing equestrian statue of the High Middle Ages in Europe can be admired at the Alter Markt (Old Market) in Magdeburg. While it cannot be said with certainty that the statue, created around 1240, depicts Emperor Otto the First, public opinion has it that the horseman shows the German emperor.
In the 13th century it was indeed erected to commemorate the arrival of the German King before the Magdeburg City Council where the king's ban was proclaimed.
The horseman is flanked by two allegoric sculptures depicting maidservants. One of the maids holds a shield with the Imperial Eagle, the other one a lance with a banner, both symbols of the imperial power.
Only in the 17th century was the baroque canopy added to the statue. In 1967, the original Magdeburg Horseman was relocated to the Magdeburg Cultural History Museum. Since then, a beautifully crafted bronze cast of the statue can be admired at the Alter Markt (Old Market).
In 2000, the Magdeburgische Gesellschaft, a society to promote the arts, decided to proceed with the gilding of the bronze cast.