The popular Magdeburg sports and leisure area

Elbauenpark Magdeburg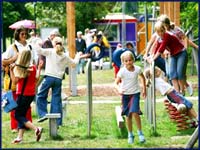 Fascinating garden realm and attractions for all age groups
Sports and activities at the Elbauenpark: Enjoy the many attractions of the Elbauenpark where sports and recreation are top priorities. The many park facilities include a nature playground, water playground with pirate ship, 400m summer toboggan ride, rock climbing (25 m high), Frisbee disc golf course as well as fitness parcours and skating tracks. A walk in the maze with its hedges, palisades and even water basins with moveable bridges provide an unforgettable experience.


Culture & Education at the Elbauenpark: The wooden Millennium Tower which soars to 60m is unique and unparalleled in the world. On six floors it houses an interactive exhibition which leads you through 6000 years of human history. In the tropical butterfly house you can marvel at 250 butterflies of 200 different species as well as various exotic lizards, Australian stick locusts and even fish.
Events at the Elbauenpark: Every year thousands of visitors flock to the Elbauenpark to enjoy magnificent events such as light, fire and music shows, "BallonMagie", the magic hot air balloon festival where balloonists from all over the world meet, as well as sports, light, kite and harvest festivals.
The Seebühne (lake stage), a modern and roofed open air stage surrounded by water, is a perfect venue for those who wish to enjoy spectacular national and international music performances as well as culture events and shows.
More Information:
Elbauenpark Magdeburg
Tessenowstraße 5a

tel.: +49 (0) 391.5 95 74 00
fax: +49 (0) 391.5 95 72 50
info@mvgm.de
www.mvgm.de
Quelle: 05