The popular Magdeburg sports and leisure area
Life & Leisure at Herrenkrug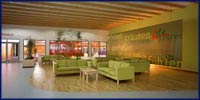 Fitness - Wellness - Leisure in new Dimensions
The aim of the Herrenkrug area, one of the most beautiful and modern health and leisure facilities in Germany, is to offer the finest and most unique leisure experience. Come and explore the 20,000 m² haven for recreation, relaxation, health and well-being as well as achieve inner harmony. Do you wish to strengthen your back muscles to ease back pain, do you wish to improve your physical condition to effectively deal with and relieve daily stress, or do you wish to boost your physical fitness? Then you have come to the right place!
At Herrenkrug, an integrative and holistic approach is taken where visitors can take maximum advantage of the many health offers in order to relax, unwind and refresh body, mind and soul. Here we take care of your well-being with modern colour concepts, a state-of-the-art and well-equipped health area including sauna and massage facilities, light and aromatherapy treatments as well as a desert meditation room, cosmetics & make up and much more.
For more active leisure fun, enjoy a match on one of our badminton, volleyball or tennis courts. Thereafter, you can enjoy an excellent meal or a snack served here. Our professional and friendly staff are more than happy to ensure your stay is an enjoyable and relaxing experience.
Quelle: 04