The popular Magdeburg sports and leisure area
Messe Magdeburg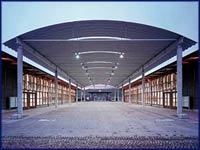 Water sports, model building, creative hobbies and TV stars
Where can you learn about the hottest trends in sports and leisure activities? On the fair and exhibition grounds of the Messe Magdeburg, of course!

Shows, fairs and exhibitions on many different topics are organised by the Messe Magdeburg which offers full-service and highly attractive exhibition grounds to make the planning, management and wrap-up of your conference a success. At the MAGDEBOOT Trade Fair you are provided with information from A to Z on water sports including motor boats, sailing yachts, accessories for fishing, surfing, diving and second-hand boat market.

The LEBEN Fair is a large sales exhibition for the whole family where you are spoilt for choice by the variety of programmes for children, music entertainment by famous artists, autograph sessions held by TV stars, fair run and bicycle rallies.
The so-called magdeburger modellbautage is the largest show of model building and construction in Saxony-Anhalt where model railways, trucks, airplanes and ships are presented as well as soap box races and a large creative market, to name just a few of the attractions.
More Information:
Messe Magdeburg
Tessenowstraße 9

tel.:+49 (0) 391.59 34 50
fax: +49 (0) 391.59 34 510
info@mvgm.de
www.mvgm.de