The popular Magdeburg sports and leisure area
Herrenkrug Park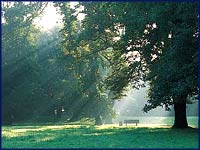 It all began with Lenné …
The green oasis which lies in all its splendour in the north-east of Magdeburg was created by the famous royal-Prussian garden architect Peter Joseph Lenné. In 1829, it was he who was commissioned with the transformation of the area into a stately park which was previously used for agricultural and gardening purposes.

It has become a perfect place to relax and unwind, to take a leisurely stroll along the many pathways or enjoy a picnic under the many trees. Some of the beautifully crafted sculptures such as the iron cast lion and the sun clock from 1861 deserve a special mention.


This year thousands of visitors will again flock to the park to enjoy the New Orleans Jazz Festival when Dixie, Rhythm & Blues fill the air as well as to the Classic Open Air Concert to listen to great sounds from opera and operetta.
More Information:
Tourist-Information Magdeburg
Ernst-Reuter-Allee 12

tel.: +49 (0) 391.1 94 33
fax: +49 (0) 391.5 40 49 30
info@magdeburg-tourist.de