Contemporary Art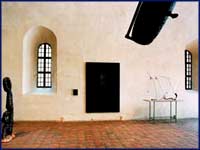 The only museum of space-oriented art in Saxony-Anhalt has made a name for itself due to its impressive collection of 20th century German sculptures. The success is based on the former "National Collection of GDR Small Sculptures" which was on display between 1976 and 1989. It was renamed "National Sculpture Collection" in 1989, however, this collection only existed for a few weeks. During this time, the sculpture park surrounding the museum was created.
The collection of German sculptures includes artwork by many important artists such as Max Klinger, Wilhelm Lehmbruck, Georg Kolbe, Will Lammert, Theo Balden, Max Lachnit, Fritz Cremer, Waldemar Grzimek, Friedrich Press, Gerhard Marcks, Wieland Förster, Heinz Breloh, Werner Stötzer, Katharina Heise, Jenny Mucchi-Wiegmann and Sabina Grzimek. Many different styles, genres and themes are on display with a particular emphasis on East German sculptures. Mostly figurative art can be admired here as well as important work by artists who did not toe the party line of the former GDR thereby creating abstract art which was not politically correct such as work by Hermann Glöckner. The museum also displays sculptures by the famous German artists Lehmbruck, Klinger, Kolbe and Barlach.
All in all, the Art Museum offers a wealth of different works and styles with regard to space-oriented art which can hardly be found elsewhere.