Short City Tour – 2 Hours
This city tour gives you the chance to experience a modern and thriving metropolis and discover the many interesting sights and attractions that bear witness to Magdeburg's over 1200-year-old history.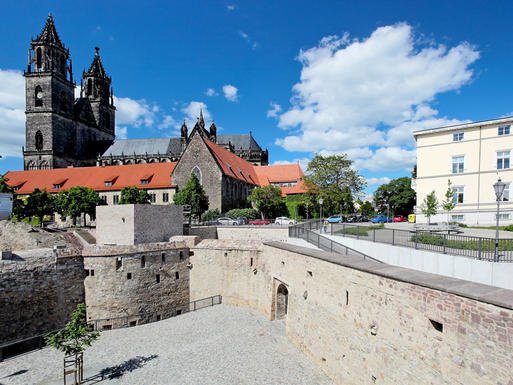 You can also request the option of getting off the bus during the tour in order to explore the city's exciting landmarks up close.

Contact the Tourist-Information Magdeburg today in order to book this attractive guided tour of the capital city of the German Land of Saxony-Anhalt for your group!
Duration:
Available:
2 hours
Daily
Groups of up to 20:
70 Euros (does not include tours inside attractions)
Additional charge for tours in a foreign language: 50%

Each additional participant:
3.50 Euros
Booking code:
A2
Sights and attractions on the tour:
Magdeburg Cathedral, dedicated to St. Maurice and St. Catherine
Art Museum in the Monastery of Our Lady
THE GREEN CITADEL OF MAGDEBURG
Old Market Square (Alter Markt) and "Magdeburg Horseman" statue
Old Town Hall
Otto von Guericke Monument
Historic post office building
St. John's Church
Magdalene Chapel


Please note:

The tour can be arranged as a walking tour or a bus tour (for groups with their own bus).

It does not include tours inside attractions. If you would like to go on a tour that includes guided tours inside the attractions, please book tour A3.