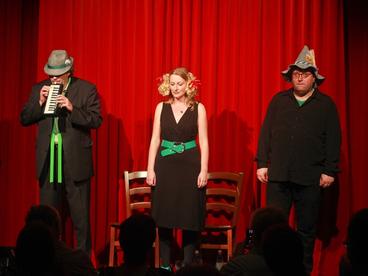 The political satire and comedy group "Die Kugelblitze" was established by the Council of the East German District of Magdeburg in 1977, finally making a plan reality. 12 years later, the venue survived the reunification of Germany, despite having two of its programmes banned. It then went on to survive privatisation another 13 years later and now, over 35 years since it was first established, Magdeburg's oldest professional political satire and comedy group is better than ever.

The group has attracted a large amount of positive media attention, for example its latest programme "Alles Gift" ('All Poison'), which was not only praised in local press such as the "Volkstimme" newspaper ("Brilliant"), kukma.net ("I don't need to think twice before recommending this comedy evening to my friends and acquaintances") and the television channel MDF1 ("We highly recommend that you visit a show"), but also formed the focus of national reviews such as those produced by the broadcaster MDR ("A real insiders' tip") and the magazine "SUPERillu" ("Amusing and spot on").

It therefore comes as no surprise that the "Kugelblitze" comedians perform shows in towns and cities all over Germany, for example Hamburg, Halberstadt, Dessau, Münster, Neuss and Aschersleben, to name but a few. Nevertheless, the group is, of course, mostly to be found in its home city of Magdeburg, where it has been performing in the "Zwickmühle" venue as a permanent guest since 2009. Sabine Münz, Lars Johansen and Ernst-Ulrich Kreschel have been performing as a group for 3 years and not only delight their audience time and time again with their high-quality musical highlights, using nothing but self-composed titles, but also their political topicality and enthusiastic performances or, to quote recent feedback in the press once again, "top-level entertainment" that "puts a smile on visitors' faces" and "is the best form of amusement".